Rappel du premier message :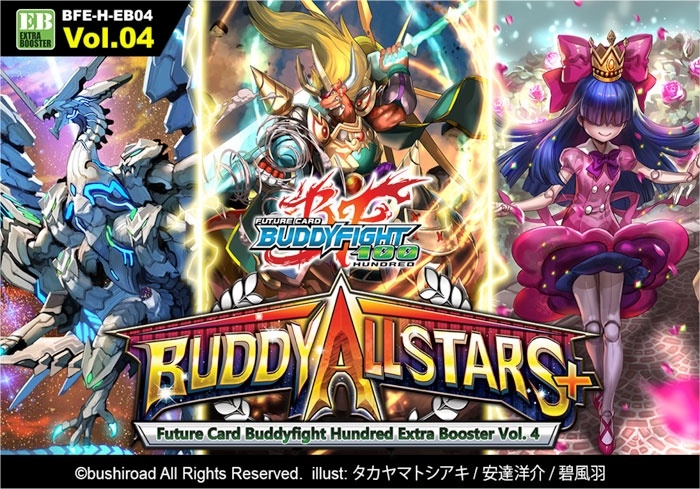 Bushiroad will release the fourth Extra Booster set for its popular Future Card Buddyfight 100 collectible card game on
December 18
.  The new set, called Buddy Allstars +, will be the largest Extra Booster set to date.
The theme of the new set is monsters, with both new monsters and new forms of older monsters.
 Highlights include "Demios Sword Dragon," "Death Tallica," "Fifth Omni Dragon Lord, Crimson Drum," and "Jackknife, Superior Plasma." New cards from the Japanese-language set H-SS01 are also part of this expansion, in English for the first time.
Buddy Allstars + will release two months after Extra Booster Vol. 3-Assault of the Omni Lords (see "'Buddyfight' Prepares for 'Assault of the Omni Lords.'")
This 106-card set (RRR:7 / RR:14 (1 reprint) / R:30 (1 reprint) / U:51 / BR:1 / SP:3) will include 4 parallel cards and an undisclosed number of "Secret Flag" cards.  
Cards from all Buddyfight worlds are in this set
, including the "Hundred Demons." Cards are packaged in 6-card random packs, with each pack including two R or above cards and no common cards.  Some random packs will also feature parallel foil versions of some uncommon and rare cards, and one PR card (of two possible types) will be inserted in each 15-pack display.  MSRP is $4.50 per pack.